NEGOMBO · ANURADHAPURA · POLONNARUWA · KANDY · TEA REGION · Galle · colombo
Future Dates TBD
11 DAYS From $6499
From the moment you step foot in Sri Lanka, you will be captivated... by its beauty, its history, its cuisine, and certainly its people.
Those with an interest in Buddhism will not only learn but will be inspired. Architecture buffs will be mesmerized by its ancient ruins as well as its modern, stylish buildings, especially our hotels.
Foodies will go crazy over pol sambol and other traditional favorites.
Finally, those who desire a relaxing, pampering vacation, filled with exploration and intrigue, will love having Zoom at the helm, handling all the details so that all guests have to do is sit back and enjoy the ride.
With optional add-on tour the Maldives.
Package Highlights:
• Accommodations at the finest 5 star and boutique hotels in Sri Lanka
• Services of a Zoom Concierge throughout your trip.
• Services of an accompanying English speaking local Sri Lankan tour guide for the entire duration of the itinerary
• Private arrival and departure airport transfers
• Buffet breakfast daily and lunch almost daily
• Welcome Beach Dinner
• Visit the spiritual city of Anuradhapura
• Visit Polonnaruwa
• Excursion to Hiriwadunna and experience the local life
• Visit of Historical Temple of Tooth Relic
• Visit the Luxurious Peradeniya Botanical Gardens
• Explore the Tea Plantations / Tea Experience
• Beach stay at Galle Fort Hotel
• Colombo City tour
• Elephant Safari
• Tour the incredible rock fortress of Sigiriya
• Farewell cocktails and evening event in Colombo
• Professionally Guided shopping excursions. Find incredible carvings, beautiful textiles, the best tea in the world, and more
• Much, much more! Contact us for more information
Consider our add-on to the Maldives!
Space is limited. Call us today to book this tour: 773.772.9666.
Gay Friendly, Luxury Accommodations
Heritance Negombo
In the buzzing beachside of Negombo, resort amenities of the cosiest kind are yours at our deluxe rooms with all the comforts you need. Bold colours paint bright cheer in the décor reflecting the vibrant surrounds. When the sun is high, retire to your balcony or terrace for some leisurely sunbathing or watch the waves by moonlight with a little night cap. Restful nights… sleep tight. The sun, returns to the sea – the night closes in. A gust of breeze swishes the palm fronds and shares a whiff of tempting aroma from the BBQ. Eat, sleep, wake, indulge and repeat… life on paradise.
Ulugalla, by Uga Escapes
Once the ancestral estate of local Anuradhapura nobility; this hotel in Anuradhapura features a 150-year-old mansion at its centre, with 20 private ecologically-built villas spread across 58 acres of lush greenery. As one of the Small Luxury Hotels of the World, with its own solar farm generating half of its own energy requirements, Ulagalla is truly a unique boutique hotel.
Enjoy the riches of the kingdom or a nature based adventure while immersed in luxurious, ecologically-sustainable beauty. Visit Ulagalla Resort with close proximity to Sigiriya to sample the best of Sri Lankan hospitality and to experience unparalleled luxury.
Recognized by many independent reviewers as one of the finest boutique hotels in Sri Lanka, Ulagalla showcases an artfully preserved, chieftain's mansion and 20 luxurious villas built following earth-friendly principles. The lush environment, stunning landscaping, as well as the exquisite attention to the comfort of guests makes for an unforgettably luxurious experience amidst a green oasis. Ulagalla being only half an hour drive away from Anuradhapura ensures that guests enjoy a cultural and historical experience bound to create a wealth of memories to take back home.
King's Pavilion Kandy
Kings Pavilion Kandy is an exclusive escape that will offer you an extraordinary perspective on the majesty of the hill capital of Sri Lanka. Surrounded by misty mountains and verdant greenery our Kandy boutique hotel gives you an experience akin to royalty. Revel in the rustic luxury of airy bedrooms styled after bygone eras, enjoy the 360 degree vistas and take a dip in the secluded infinity pool at our Kandy hotel that will give you an incredible insight into the lifestyle of Kandyan kings; savour the decadence of your ultimate retreat.
Ceylon Tea Trails, a Reslais Chateaux property
The world's first tea bungalow resort, Ceylon Tea Trails is an icon for small luxury resorts. Comprising of five restored colonial era tea planter residences, the period furnishings, gracious butler service and gourmet cuisine create an ambience that has made Tea Trails the gold standard for luxury bungalows in Sri Lanka. Situated at an altitude of 1250 metres near Hatton in central Sri Lanka, the resort borders the World Heritage Central Highlands and offers breathtaking panoramas of mountains and lush tea fields. Each bungalow is unique and exudes its own exquisite ambiance while offering guests the non-hotel, private house ambience that is the hallmark of the award-winning, "all-inclusive" Tea Trails experience. We invite you to take a trail with us through panoramic Ceylon tea gardens or laze in one of the bungalows, watching the mist roll in with a crackling fire warding off the evening chill.Book direct to enjoy the best rates available online!
Galle Fort Hotel
One of the grand mansions of the fort, this iconic building has been many things to many people; a former gem merchants mansion, RAF barracks, a post office, bakery, lapidary and even a pitch for the forts juvenile cricketers; the Galle Fort Hotel is quintessential Galle, a beautiful, eclectic, eccentric gem of a place in the town that exerts a magnet appeal for history and culture buffs the world over.
In the decade following its brilliant restoration, this 14 suite boutique hotel has gained an impeccable reputation for offering a singular experience; paying deep homage to Galle's rich cultural and aesthetic values, while combining luxurious surroundings and delectable cuisine with the highest standards of service excellence.
The perfect mix of culture, class and comfort, the Galle Fort Hotel is not to be missed; not just because it's one of the best hotels in Galle, but because it is simply one of the best holiday experiences, ever.
Galle Face Hotel
Sri Lanka's iconic landmark, the Galle Face Hotel, is situated in the heart of Colombo, along the seafront and facing the famous Galle Face Green. One of the oldest hotels east of the Suez, the Galle Face Hotel embraces its rich history and legendary traditions, utilizing them to create engaging, immersive experiences that resonate with old and new generations of travelers alike. No visit to Sri Lanka is complete without staying at this majestic hotel, built in 1864 and recently restored back to its former glory.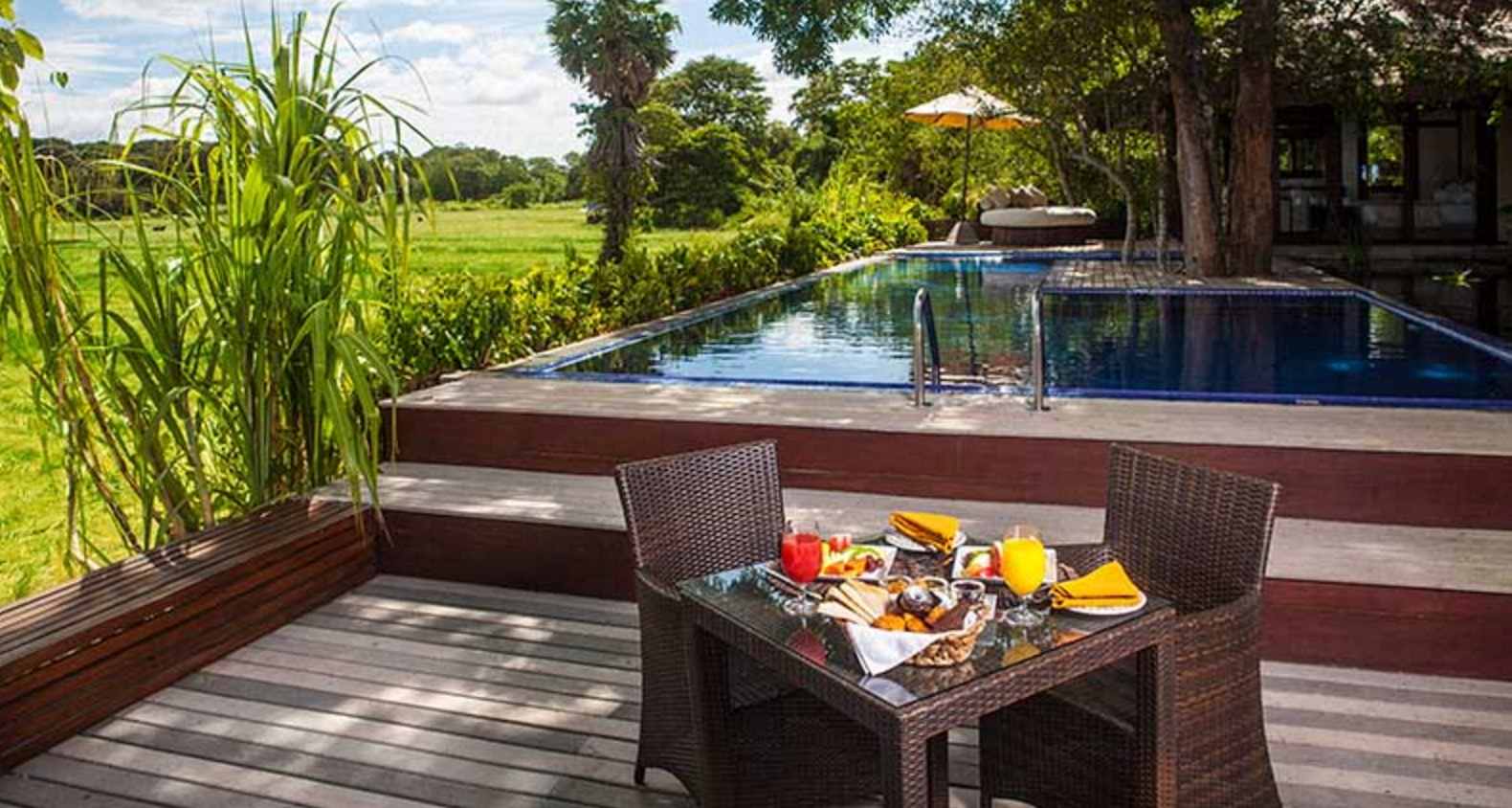 Air: International and domestic airfare not included. However, Zoom Vacations will arrange all necessary internal flights.
Passports: Your valid passport should have at least two blank visa pages and should be valid for at least six months after your planned departure from the country you are visiting.
Note: Passport pages titled "Endorsement Pages" are not visa pages.
Visas: Please note that travelers to Sri Lanka need to have a Sri Lankan Visa in advance of your trip in order to enter Sri Lanka. For more information, click here.
While Zoom Vacations will assist when possible, please note that passport, visa, and vaccination requirements vary from country to country and are the sole responsibility of the traveler. If you are a US resident, you may click here for more information on passport, visa, and vaccination requirements for various countries.
*Land only Introductory rate, based on double occupancy. Prices are subject to change. Need a roommate? Zoom Vacations® is happy to match you with someone, at no additional charge. Or, you may pay a single supplement and go as a single.
Please read Terms and Conditions prior to booking.
For more information on entry and exit requirements, see here.