OCTOBER 30 - November 9, 2020
Rwanda Mountain Gorilla Safari and the Great Migration* in Tanzania
eleven DAYS from $14,499
Set in lush African forests, standing within an arm's reach of a mountain gorilla, Zoom Vacations is now offering an exhilarating, once-in-a-lifetime excursion into eastern Africa. Encountering one of 800 remaining mountain gorillas trekking through Rwanda's Volcanoes National Park is a soul stirring experience. Far more intimate than a traditional safari, Zoom's 11-day tour through Rwanda and Tanzania provides endless opportunities for a jaw-dropping, breath-taking, and memory-making vacation.
Juxtaposed with Africa's rugged wilderness are the five-star lodgings in which Zoom travelers will enjoy luxurious pampering. Between game drives through the home of Africa's Great Migration are sunset cocktails, gourmet meals, and top-notch spa services.
A camera and a sense of adventure are all you need on this all-inclusive vacation to Rwanda and Tanzania.
Package Highlights:
• Services of a Zoom Concierge throughout your trip
• Come face to face with mountain gorillas on a trek through Volcanoes National Park
• All-inclusive resorts including food, beer, wine, and spirits
• 2 nights in luxury tree-house accommodation in Tanzania
• Virunga National Park, Africa's oldest and most biodiverse national park
• Sunset cocktails and dinners with breathtaking views atop 'Sunset Hill'
• Explore the home of the Great Migration
• Visit an authentic Maasai village
• Sundown cocktails in the bush
• Game drives through Tarangire National Park
• A night game drive through Tarangire National Park
• A walking safari accompanied by an experienced guide
• A gourmet picnic lunch on the floor of Ngorongoro crater
• Evening cocktail hours overlooking coffee-laden hills
• Explore Lake Manyara National Park, dubbed Africa's loveliest lake by Ernest Hemmingway
• Spend two days exploring the vast Serengeti National Park, famed for its annual great migration
• Brunch in the bush of Serengeti National Park
• Complimentary laundry service at select lodges
• Expert guides leading game drives and walks
• Optional horseback riding, cycling, and massages
Space is limited. Call us today to book this tour: 773.772.9666.
Gay Friendly, Luxury Accommodations
Serena Hotel, Kigali (1 Night)
Ideally located on one of Kigali's most charming boulevards, the five-star Kigali Serena Hotel is built around a polished granite atrium, which showcases the very best of Rwandese cultural art. Relaxed yet elegant, the hotel features an Executive Lounge and Bar, which opens onto a wide sundeck overlooking the newly refurbished swimming pool. Also overlooking the pool, the popular Milima Restaurant offers a wide range of all-day buffet choices, while the relaxed Sokoni Café offers inside and outside poolside seating.
The Arusha Coffee Lodge (1 Night)
Lying on the gentling rolling foothills that cascade down from the ever-present Mount Meru is the bustling and vibrant town of Arusha. It is here on the outskirts of this town, hidden amongst one of Tanzania's largest coffee plantations, that you will find Arusha Coffee Lodge, a perfect haven for relaxation either before or after any African safari. Comprising of 30 Plantation Houses – inclusive of 12 Plantation Suites – that radiate out into the evergreen coffee fields, Arusha Coffee Lodge has been designed around the original landowner's home that dates back to the early 1900's.
Tarangire Treetops (2 Nights)
Many a childhood would have been spent playing in the world of 'make-believe'. Within this imaginary existence many of us will have climbed and played high up in the bows and branches and, for the lucky few, built a 'palace' in the sky. It is this nostalgic sparkle that is all too visible in the eyes of the 'grown-ups' who gaze upon Tarangire Treetops for the first time. Tarangire Treetops sits serenely on the border of the Tarangire National Park - Tanzania. Each of Treetops' elevated rooms boast one of the largest bedrooms to be found in any camp or lodge in East Africa – with a floor space of 65 square meters – and all with an exotic double shower en suite bathroom. With furnishings that create warmth and demonstrate a commitment to local craftsmanship, the 'up-in-the-air' experience is completed by the open-fronted room design affording views across the Tarangire plains from an expansive but private balcony.
The Manor at Ngorongoro (2 Nights)
Crossing the Rift Valley and climbing the steppe onto the green and rolling hills south of the Ngorongoro Crater, there lies a truly undeniable surprise and one that will be a home-away-from-home. The Manor at Ngorongoro, located in the northwest Tanzania and with its 10 luxurious cottages (20 Suites) and magnificent main Manor House, is one of the first safari lodges of its kind to blend East African hospitality with old-world Afro-European architecture and decor. Located adjacent to the famous Ngorongoro conservation area and within a 1500-acre Arabica coffee estate, The Manor is reminiscent of an elegant up-country farm home in the Cape Dutch-style of architecture. Every detail of The Manor has been designed with its guests' comfort in mind. Each of the cottages has been carefully positioned to maximise the views of the adjacent verdant hills but at the same time to maintain the intimacy and privacy of this old-world Manor home.
Serengeti Migration Camp or Serengeti Pioneer Camp (2 Nights)
Internationally renowned for the greatest wildlife spectacle on the planet, The Serengeti National Park located in north west Tanzania is the ultimate 'wildlife show' on earth. Hidden among the rocky outcrops Serengeti Migration Camp is located at the starting point of the Migration. Comprising of 20 luxurious elevated tents, each with spacious and richly furnished bedrooms, Serengeti Migration Camp blends seamlessly into the environment. Each of the tents is surrounded by its own 360-degree verandah deck, which in turn creates your very own private sanctuary to enjoy the constant game sightings and the ever-present sounds of the bush.
Virunga Lodge (2 Nights)
The magnificent Virunga Lodge is perched high on a ridge and has stunning views of the Virunga Volcanoes and the twin lakes Bulera and Ruhonda. It is the premier luxury destination for gorilla safari tours and tracking the endangered mountain gorillas. The Virunga safari lodge in Rwanda has been described as having 'the best view in the world' and as 'one of the finest lodges in Africa'. The organic, 'bush-chic' design reflects the local building style and offers luxury comforts to all guests. Each banda has its own terrace with breath-taking views of the Virunga volcanoes or twin lakes, while sensitive installations such as low-flush toilets and solar power ensure you enjoy luxurious comforts while maintaining a crucial sensitivity to the environment.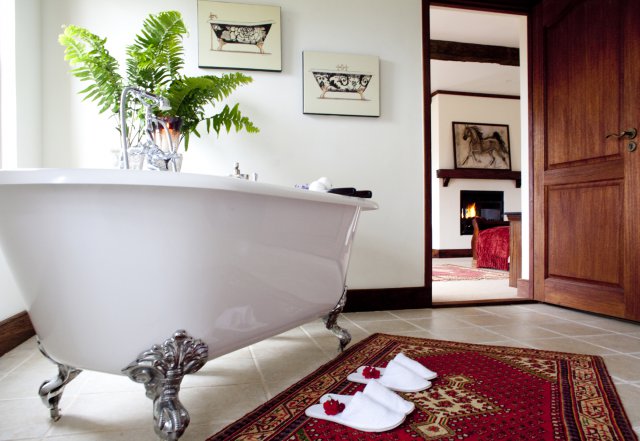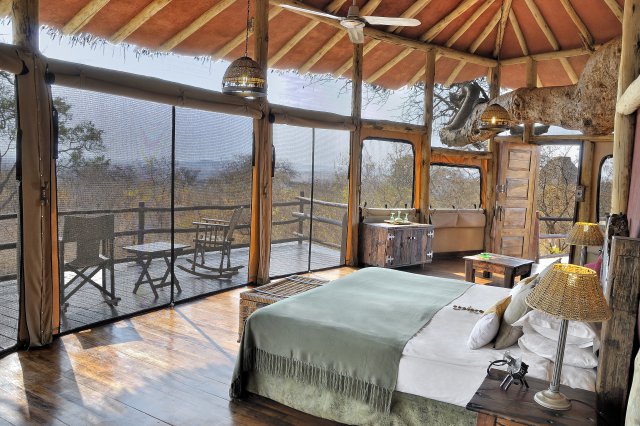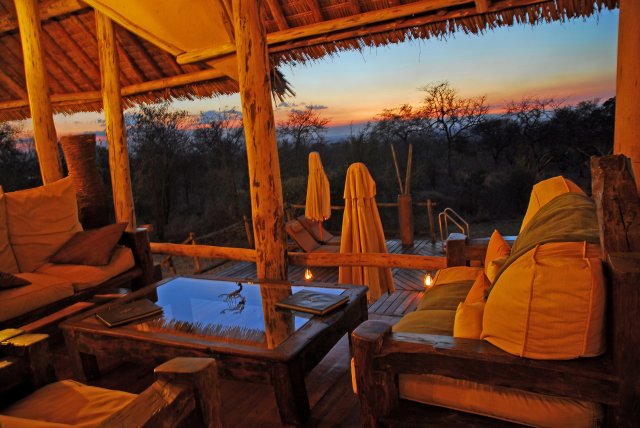 *Note: the Migration is an animal instinct and weather driven phenomenon - none of which we control.
Air: International and domestic airfare not included. Cost of 4 internal flights approximately $1,799.
Safari Permits: Gorilla trek permit not included.
Passports: Your valid passport should have at least two blank visa pages and should be valid for at least six months after your planned departure from the country you are visiting.
Note: Passport pages titled "Endorsement Pages" are not visa pages.
Visas: Please note that currently US citizens must have a visa to enter Rwanda and Tanzania. Visa is available upon arrival to Rwanda and Tanzania. If you are not a US citizen, please click here to determine your visa requirements.
While Zoom Vacations will assist when possible, please note that passport, visa, and vaccination requirements vary from country to country and are the sole responsibility of the traveler. If you are a US resident, you may click here for more information on passport, visa, and vaccination requirements for various countries.
*Land only Introductory rate, based on double occupancy. Prices are subject to change. Need a roommate? Zoom Vacations® is happy to match you with someone, at no additional charge. Or, you may pay a single supplement and go as a single.
Please read Terms and Conditions prior to booking.
For more information on entry and exit requirements, see here.