ZOOM ISRAEL & JORDAN
PETRA · THE DEAD SEA · JERUSALEM · GALILEE · TEL AVIV
SEPTEMBER 12-23, 2016
12 days from $7999
Israel is one of those places many have been wanting to visit for years, but just never found the right time. This June, Zoom Vacations® has developed a tour to Israel that will make you glad you waited until now!
Israel is the most gay-friendly country in the Middle East, and in fact, 61% of Israelis support civil marriage for same-sex couples.
In addition to its gay-friendly attitude, few countries can boast such diversity in its offerings, appealing to virtually any traveler. In one day you can visit a mighty desert, swim in the saltiest water on earth, explore a modern city, discover centuries-old ruins, experience a vibrant gay scene, and so much more.
And Jordan? Ask most gay men who are avid travelers to list the top three destinations that they are dying to visit, and Petra, in the Kingdom of Jordan almost always makes the list.
Petra is an archeological city that was established around the 6th century BCE as a capital for the Nabataeans. Petra has been a UNESCO World Heritage Site since 1985, and UNESCO considers Petra "one of the most precious cultural properties of man's cultural heritage."
Today, it is widely considered one of the world's most awe-inspiring architectural gems.
Zoom Vacations®' trip to Israel and Jordan explores the history, culture, cuisine, and gay nightlife with sensational guides, while enjoying the finest hotels in Petra, the Dead Sea, Jerusalem, Galilee, and Tel Aviv.
Package Highlights:
• Services of a Zoom Vacations® Concierge throughout the trip
• Accommodations at the finest 5 star hotels throughout
• Meet & greet service inside the airport upon arrival & departure, available upon request, to make your arrival as carefree as possible
• Private arrival airport transfer by air-conditioned car from the airport to the American Colony Hotel on private basis
• Transfers & excursions by a private air-conditioned small bus with a driver throughout
• Breakfast daily
• Professional English speaking guides throughout the trip
• All entrance fees to the sites mentioned in the itinerary.
• Gay nightlife excursions in Jerusalem and Tel Aviv
• Jerusalem city tour including a visit to the famous city walls, Rabbinical Tunnel, Via Dolorosa (Way of the Cross), Church of the Holy Sepulchre, marketplace, and more
• Visit the fortress of Massada, the last stronghold in the zealots battle against the Roman Empire
• Tour the caves of Qumran, where back in 1948 a Bedouin boy herding his sheep discovered the Dead Sea Scrolls
• Optional swim in the world famous rejuvenating waters of the Dead Sea
• Ground transfers in air conditioned vehicles throughout
• Guided transfer into Jordan from Israel
• Portages at airports and hotels
• Transport in air conditioned vehicle from Amman to Petra, and Petra to the Dead Sea
• Professionally guided tour of Petra
• Accommodations at the finest 5 star hotel on the Dead Sea, and the best spa in the Middle East
• All land and Zoom Vacations® event transfers
Space is limited. Call us today to book this tour: 773.772.9666.
Gay Friendly, Luxury Accommodations
The Mamilla - Jerusalem
Located in the heart of the City, with magnificent views of the Old City walls, the Tower of David, Jaffa Gate, and alongside Jerusalem's new shopping and entertainment experience, the Alrov Mamilla Avenue. Mamilla Hotel is the newest of luxury hotels in Jerusalem, which brings world-class superior design and lifestyle hospitality.
Enjoy exceptional accommodations together with exclusive restaurant and bar venues, a Holistic Wellbeing Center, that blend sophistication and modern international style with the unique and rich culture of the city. This visually stunning example of intimate, sophisticated contemporary design was done by Piero Lissoni, one of the world's most renowned designers.
Individually crafted, the Mamilla Hotel rooms and suites mix the best modern comforts with exclusive stunning original pieces. Each room both surprises and delights with their whimsical touches and fashionable ambience. Inspired by light and the natural materials of Jerusalem, the design blends the eternal with the strikingly contemporary. Active contrasts with color and textures, from black metal headboards, to light white transparent curtains, wooden floors and natural Jerusalem stone, all play a role in stimulating the senses and calming your soul. The hotel's ingenious liquid-crystal bathroom walls are a masterpiece of design and space, creating combined or segmented spaces at the touch of a button. Behind these playful walls is a deep, cascading rectangular bathtub, separate shower stall, super-sized towels and an array of luxurious toiletries.
Bait Bagalil Boutique Hotel and Spa - Galilee
The Bayit Bagalil hotel is located in the enchanted core of an eight acre forest, overlooking Lake Klneret and the Galil mountains. Built from all natural stone, this cool retreat is the perfect place to stop in at the numerous vineyards surrounding the Bagalil.
Hilton - Tel Aviv
Perched on a cliff overlooking the Mediterranean Sea, the Hilton Tel Aviv hotel is a hop and a skip from the beach. Relax by the outdoor pool, grab a workout at the fitness center, or be pampered at the spa. Grab sushi at Yakimono Sushi Bar or Mediterranean dishes at King Solomon. Relax with a cocktail at the Lobby Lounge. Enjoy your guest room with a sea view, balcony, working area and marble bathroom. The bright and airy room, has large opening windows. All rooms have wireless internet access and private balconies. Most have sea views. These impeccable hotels were chosen for their location, style, comfort, and service. We hope they provid the perfect home away from home while you are touring and exploring Israel.
Four Seasons - Amman
Located between the prestigious Al Sweifiyah residential area and the Shmeisani financial district, Four Seasons Hotel Amman is a crown jewel in the heart of Jordan's bustling capital city. Enjoy two luxurious Romanesque pools, one outdoor and one indoor, offering poolside fruit kebabs, towels and even sunglasses. Guest Rooms are the largest in the city, beautiful and elegantly decorated. Guests enjoy comfortable beds, beautiful bathrooms, great city views, and Modern conveniences.
Movenpick Nabatean Castle - Petra
The Movenpick Castle is only a 10 minute drive from the entrance to the historic site of Petra. Situated at an altitude conducive to breathtaking views over the sweeping hillsides of Jordan. This hotel is also home to a one of a kind 110 square meter heated indoor pool on the garden level.
Kempinski Hotel Ishtar - Dead Sea
Hidden away for centuries in the cradle of history and the lowest point on Earth, Kempinski Hotel Ishtar welcomes you to the world's oldest and very first natural spa – The Dead Sea!
The Kempinski Hotel Ishtar Dead Sea offers luxurious enclaves set amidst gardens dotted with lagoons, waterfalls and private pools, where ancient olive trees mingle with bamboo palms, providing guests with absolute privacy in a serene and exclusive setting. Designed in affectionate tribute to the Hanging Gardens of Babylon, it is built with local stone in a stylish Arabesque monument building that weaves clean and simple lines into an Arabian theme.
From prolific infinity pools to soothing treatment rooms. The hotel's facilities are at your disposal to help you create your private sanctuary of healing and enchantment. The resort is exclusive to resident hotel guests only. Plunge into the popular Lazy River during the day, get that perfect tan by the modernly designed Sunken Pool. Take a gentle swim at sunset in the Ashur Pool, then top it all off with a brisk lap under the starry sky in the Akkad Infinity Pool. Take your pick from several heated and non-heated pools.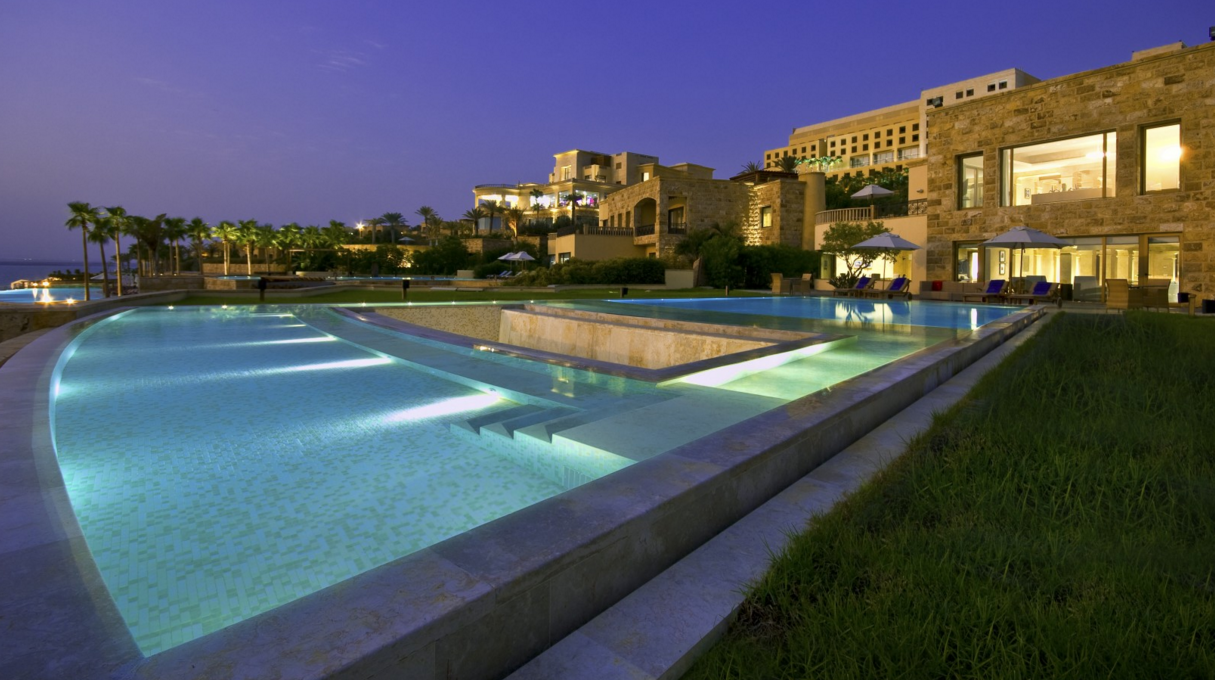 Air: International and domestic airfare not included.
Passports: Your valid passport should have at least two blank pages and should be valid for at least six months after your planned departure from the country you are visiting.
Visas: Please note that currently US citizens must have a Visa to enter Nepal. If you are not a US citizen, please contact your nearest Nepalese Consulate to determine your visa requirements.
While Zoom Vacations will assist when possible, please note that passport, visa, and vaccination requirements vary from country to country and are the sole responsibility of the traveler. If you are a US resident, you may click here for more information on passport, visa, and vaccination requirements for various countries..
*Land only Introductory rate, based on double occupancy. Prices are subject to change. Need a roommate? Zoom Vacations® is happy to match you with someone, at no additional charge. Or, you may pay a single supplement and go as a single.
Please read Terms and Conditions prior to booking.