Mumbai · Varanasi · DELHI · AGRA· JAIPUR · JODHPUR ·UDAIPUR
September 22 to October 4, 2019
September 20 to October 2, 2020
13 DAYS FROM $9499
India's beauty and diversity will enrich you with her culture, stun you with her modernity, embrace you with her warmth, and overwhelm you with her hospitality…
Our Zoom Vacation combines the ultimate luxury with seamless exploration of one of the world's most fascinating countries. You will stay in the absolute best hotels and palaces in Delhi, Agra, Jaipur, Udaipur and Jodhpur), including, among others the Umaid Bhawan Palace in Jodhpur, rated number 1 by TripAdvisor
Of course one of your highlights will be visiting the Taj Mahal. For centuries, the Taj Mahal has inspired poets, painters and musicians to try and capture its elusive magic in word, color and song. Since the 17th century, travelers have crossed continents to come and see this ultimate memorial to love; few have been unmoved by its incomparable beauty.
With optional add-on tours to Nepal Before and Bhutan after.
Package Highlights:
• Accommodations at the finest 5 star hotels and palaces in India
• Services of a Zoom Concierge throughout your trip. This trip is being hosted by Zoom Vacations co-owner Joel Cabrera
• Services of an accompanying English speaking local Indian tour guide for the entire duration of the itinerary
• Private arrival and departure airport transfers
• Buffet breakfast daily and lunch almost daily in exclusive forts, palaces and country settings
• Cocktail reception and welcome dinner in Mumbai in a modern setting
• Taste of Mumbai city tour, including Dhobi Ghat and Jane Temple
• Evening tour of Varanasi by rickshaw followed by a cruise on the Ganges River
• Professionally guided tour of the Sarnath's temples and Archeological Museum of Buddhist art treasures in Varanasi, including entrance fees
• Professionally guided tour of the 11th Century Qutab Minar Tower in Delhi
• Professionally guided tour of Humayun's Tomb, India Gate, Swaminarayan Akshardham Temple, and other sites of interest in Delhi, including entrance fees
• Rickshaw ride through the streets and markets of Delhi
• Professionally guided tour of the Mahatma Ghandi Memorial in Delhi
• Professionally guided tour of the 16th Century abandoned city near Delhi, including entrance fees
• Train journey from Delhi to Agra
• Professionally guided tour of the magnificent Red Fort in Agra, including entrance fees
• Professionally guided tour of the Taj Mahal in Agra, including entrance fees
• Professionally guided tour of Jaipur, known as the "Pink City", including a rickshaw visit to a bird sanctuary showcasing an astonishing range of flora and fauna
• Unique village visit and walking tour near Jaipur
• Private elephant safari in a beautiful country setting followed by brunch in Jaipur
• Visit to the Amber Fort and Professionally guided tour of the Maharajah's City Palace in Jaipur, including entrance fees. Elephant ride is based on availability
• Professionally guided tour of the Jodhpur including entrance fees to the incredible sites in the Blue City
• Visit the magnificent Mehrangarh fort which dominates the town ringed with its massive protective walls
• Tour the ancient trading town of Osian
• Tour smaller villages near Jodhpur by camel
• Enjoy a sensational BBQ dinner in a camel camp in the dessert near Jodhpur, while enjoying local folk entertainment
• Professionally guided tour of Udaipur, known as the Venice of the East
• Private decorated boat cruise on Udaipur's stunning Lake Pichola with views of old walled city, palaces and ancient temples
• Professionally guided tour of the City Palace and a private viewing of its Crystal Gallery (the largest in the world) in Udaipur, including entrance fees
• Professionally guided tour of the 11th Century ruins and the a 15th Century complex of 108 temples near Udaipur
• Farewell cocktails and evening event in Udaipur in a regal setting
• Professionally Guided shopping excursions. Find incredible rugs, beautiful textiles, hand-carved marble items, and more
• Much, much more! Contact us for more information
Space is limited. Call us today to book this tour: 773.772.9666.
Gay Friendly, Luxury Accommodations
The Taj Mahal Palace - Mumbai (2 nights)
Since it opened in 1903, The Taj Mahal Palace, Mumbai has created its own unique history. From Maharajas and Princes to various Kings, Presidents, CEOs and entertainers, the Taj has played the perfect host. The hotel is an architectural marvel and brings together Moorish, Oriental and Florentine styles. Offering panoramic views of the Arabian Sea and the Gateway of India, the hotel is a gracious landmark of the city of Mumbai.
Taj Ganges - Varanasi (1 night)
The Taj Ganges is set amidst 40 acres of lush green gardens, Taj Ganges is the veritable haven of peace and tranquility in this ancient temple city. The hotel is constructed in the holy Swastik shape (The Swastika is an ancient symbol which re-presents good fortune and blessing). Taj Ganges offers recently renovated & refurbished world-class contemporary rooms & suites with choice of views ranging from the lush green gardens or the swimming pool.
The Oberoi - New Delhi (2 nights)
Located in New Delhi, India's capital city, The Oberoi, New Delhi reflects the city's spirit in a harmonious blend of tradition and contemporary sophistication. Located close to the city center near business, commercial and shopping districts, the luxury hotel overlooks Delhi's prestigious Golf Club on one side and the heritage site of Humayun's Tomb on the other. Exquisite interiors, impeccable service and fine cuisine combine to make this the Capital's most graceful and elegant hotel. The award winning hotel is ideal to explore the cultural wonders of Delhi.
The Oberoi Amar Vilas - Agra (1 night)
The Oberoi Amarvilas is located 600 meters from the Taj Mahal and all rooms, suites, lobby, bar and lounge offer breathtaking views of the monument. Built in a style inspired by Moorish and Mughal architecture, the resort is an incredible display of terraced lawns, fountains, reflection pools and pavilions with rich interiors that take you back to an era of Emperors and Princes. An interlude at The Oberoi Amarvilas is truly unforgettable. Allow yourself to be swept away by Taj Mahal's romance at dusk. Let the nights be filled with the magic of the Taj by moonlight.
The Taj Rambagh Palace - Jaipur (2 nights)
In the finest tradition of Rajput hospitality, the Rambagh Palace offers its guests a taste of royal living – a luxury and extravagance that was once the sole preserve of kings. Its elegantly appointed rooms, marbled corridors and majestic gardens echo with history, and every corner has a story to tell. It is no wonder why Rambagn Palace was voted best hotel in the world by the readers of Conde Nast.
The Umaid Bhawan Palace - Jodhpur (2 nights)
Perched high above the desert capital of Jodhpur, Umaid Bhawan Palace is the last of the great palaces of India and one of the largest residences in the world, set amidst 26 acres of lush gardens.
Designed by renowned Edwardian architect Henry Lanchester, the palace is a blend of eastern and western architectural influences. Its majestic 105-foot high cupola is influenced by the Renaissance, while the towers draw inspiration from Rajput tradition. The lavish interiors with gilt furniture and elegant artwork follow the Art Deco style, complemented by the exotic murals of the self-exiled Polish artist Stefan Norblin.
The Oberoi Udaivillas - Udaipur (2 nights)
Located on the bank of Lake Pichola, The Oberoi Udaivilas stands on the 200 year old hunting grounds of the Maharana of Mewar. Spread over a luxurious fifty acres, which includes a twenty-acre wildlife sanctuary with deer and wild boar, The Oberoi Udaivilas affords spectacular views across the verdant gardens and sparkling Lake Nichola. The hotel's intricate layout of interconnecting domes and corridors reflects the layout of Udaipur itself - whose seven lakes are linked by canals. These domes and walkways are flooded with sunlight, caressed by balmy breezes and offer magnificent views of the lake and gardens.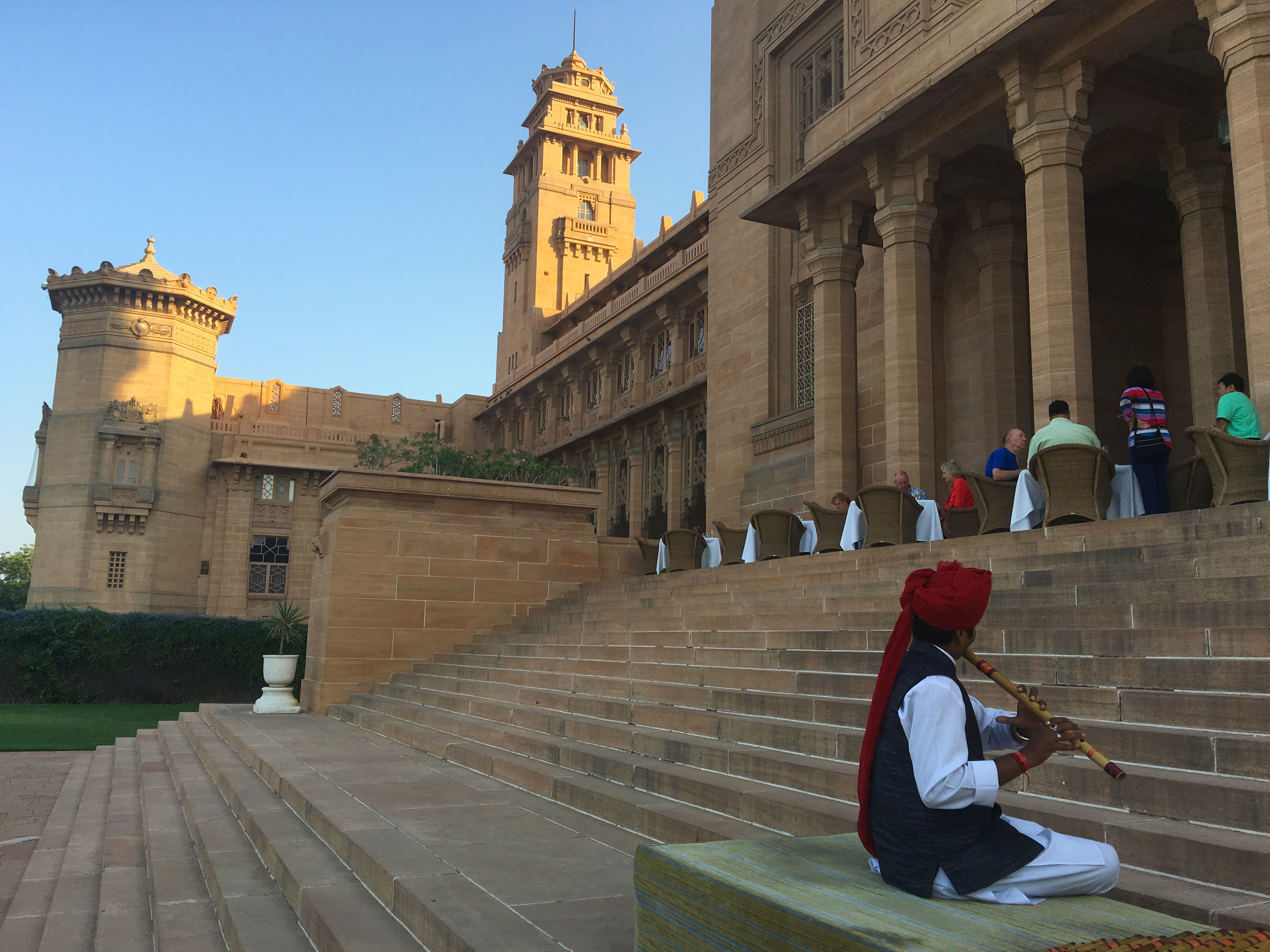 Air: International and domestic airfare not included. However, Zoom Vacations will arrange all necessary internal flights.
Passports: Your valid passport should have at least two blank visa pages and should be valid for at least six months after your planned departure from the country you are visiting.
Note: Passport pages titled "Endorsement Pages" are not visa pages.
Visas: Please note that travelers to India need to have a Indian Visa in advance of your trip in order to enter India. For more information, click here.
While Zoom Vacations will assist when possible, please note that passport, visa, and vaccination requirements vary from country to country and are the sole responsibility of the traveler. If you are a US resident, you may click here for more information on passport, visa, and vaccination requirements for various countries.
*Land only Introductory rate, based on double occupancy. Prices are subject to change. Need a roommate? Zoom Vacations® is happy to match you with someone, at no additional charge. Or, you may pay a single supplement and go as a single.
Please read Terms and Conditions prior to booking.
For more information on entry and exit requirements, see here.