JUNE 25 - 29, 2018
AREQUIPA · lake titicaca · CUSCO
4 nights | From $3999
Based on popular demand we created a Peru post trip extension to Lake Titicaca, one of the most culturally and architecturally stunning areas of Peru that does not disappoint.
We fly to Arequipa where we will visit this beautiful white city with views of the majestic volcano, and take a scenic drive to visit the Sumbay Caves before we arrive in Lake Titicaca, where we take a motor boat trip to some of the more unique islands of Lake Titicaca, starting with the utterly fascinating Uros Islands.
Embark on the ultimate travel adventure. Explore the Peruvian Andes and experience one of the world's highest train routes aboard South America's first luxury sleeper train. Discover the Spirit of the Andes as you journey aboard this luxury train from Puno to Cusco. Let yourself be enchanted by some of South America's most beautiful scenery as you travel along one of the highest train routes in the world.
Sister to the celebrated Belmond Hiram Bingham train, your time aboard promises to be every bit as inspiring as your off-board moments of discovery. Inviting, indulgent accommodation and refined Andean cuisine ensure an unforgettable journey. Observation, Lounge and Spa Cars are are the perfect places to unwind, designed to offer modern comfort with traditional flourishes.
Package Highlights:
• Gourmet meals featuring refined Andean flavors, served with sophisticated flare.
• Fresh, locally sourced ingredients at every meal.
• Tour Raqch'i, an Inca archaeological site.
• Witness an unforgettable sunset over La Raya Mountain range.
• Take a traditional boat ride out to the Uros Islands, stunning man-made lands carefully created from woven reeds that are constantly being replenished.
• Full Day Tour of Lake Titicaca, and its floating inhabited islands.
• Lunch on Taquile Island, which is inhabited by Quechua speaking natives who have developed both an efficient and original social system and a fine hand weaving technique over several generations.
• Admire the eclectic beauty and rich diversity of life on Lake Titicaca, the largest lake in South America and home to many islands.
• Enjoy a private lunch on Collata Beach, Taquile island, with demonstrations from traditional dancers and artisanal workers.
• Go on an early-morning excursion to the spellbinding, rugged scenery of Lake Lagunillas.
• Visit Sumbay Caves, home to fascinating cave paintings estimated to be almost 8,000 years old.
Space is limited. Call us today to book this tour: 773.772.9666.
Gay Friendly, Luxury Accommodations
Belmond Andean Explorer
Experience true relaxation as you step into your own personal sanctuary. Belmond Andean Explorer offers four types of cabins, each with its own inviting en-suite bathroom and shower. Interiors seamlessly blend modern sophistication with traditional Andean accents. Designs draw inspiration from Peru's hand-woven fabrics, with textures chosen to match the soft feel of Alpaca wool.
Casa Andina Private Collection, Arequipa
Casa Andina Private Collection Arequipa is raised on the old "Casa de la Moneda" (old Mint), a national historic landmark built in 1794, what makes our hotel more a living museum than a hotel. Its strategic location only a few blocks from the Plaza de Armas in Arequipa makes it the ideal choice for business and leisure travelers.
TitiLaka Lodge
Built atop a private peninsula jutting into the waters of Lake Titicaca-Peru, Titilaka is an 18 room all-inclusive luxury experience lodge and a member of the prestigious Relais & Chateaux fellowship. At the meeting place of millenary history, ancient and living cultures, and natural beauty, Titilaka is an unforgettable portal to the past.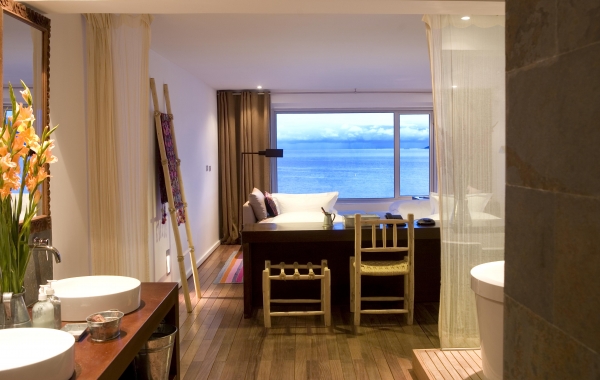 Andean Explorer - Spirit of the Andes Itinerary
Day 1 ~ Cusco to Arequipa
Arrive in Arequipa, Peru. Nicknames the 'White City' for its enchanting white-stone buildings, Arequipa is one of the most important settlements in Peru. Visitors here will discover a delightful mix of indigenous and colonial Spanish architecture, earning it recognition as a UNESCO World Heritage Site. Visit the buzzing markets, the enchanting Catholic churches, or simply soak up the ambiance.
Meals Provided: Breakfast, Dinner
Accommodation: Casa Andina Hotel, Arequipa
 
Day 2 ~ Sumbay Caves
North of Arequipa, these spectacular caves are home to some 500 paintings. These spellbinding etchings and depictions are thought to be made by some of the first settlers, and are estimated to be between 6,000 and 8,000 years old. Continue driving to Lake Titicaca. On the way we will pass La Raya Mountain Range. An impressive stretch that marks the divide between Cusco and Puno, La Raya is a photographer's dream. The range features a number of impressive snow-dusted peaks, while llamas and alpacas casually graze at the lower levels.
Meals Provided: Breakfast, Lunch, Dinner
Accommodation: Titilaka Lodge, Lake Titicaca
 
Day 3 ~ Lake Titicaca Excursion
Tour of Lake Titicaca Enjoy a complete day of sailing in Titicaca Lake, the highest navigable lake in the world. Depart early in the morning for the floating islands of Uros, where the inhabitants still live as they did centuries ago, on floating islands they make with the totora reeds that grow on the lake.
Continue sailing towards Taquile Island for a 30 minute hike towards its small town inhabited by Quechua-speaking natives who have, over the generations, developed both an efficient and original social system as well as a refined handweaving technique. Lunch will be served in a local house that serves as a restaurant.
After lunch, we will explore the island and you can appreciate the magnificent views of Lake Titicaca, then returning to the boat to arrive back in the afternoon at the hotel.
Dinner is included and will be served at your leisure
Meals Provided: Breakfast, Lunch, Dinner
Accommodation: Titilaka Lodge, Lake Titicaca
 
Day 4 ~ Belmond Spirit of the Andes Luxury Train
Discover the Spirit of the Andes as you journey aboard this luxury train from Puno to Cusco. Let yourself be enchanted by some of South America's most beautiful scenery as you travel along one of the highest train routes in the world.
Meet the Belmond Andean Explorer in Puno, a charming town beside Lake Titicaca. Step aboard in the afternoon and take the opportunity to unwind in your plush cabin.
Soon you are invited to one of the two sophisticated restaurant cars for lunch. A fine dining experience of refined Andean cuisine awaits.
Later on disembark for an excursion through the scenic La Raya mountain range, an area of rugged and untamed natural beauty.
Return to the train for tea and time at leisure. Soak up the scenery from the Observation Car, or perhaps get to know your fellow travelers over cocktails in the Lounge Car.
As evening descends return to the restaurant car for a sensational dinner as the train continues on its journey into the Cusco region.
Meals: Breakfast, Lunch, Dinner
Accommodation: Belmond Andean Explorer Luxury Sleeper Train
 
Day 5 ~ Arrive in Cusco
Awake early to a delicious breakfast, the ideal way to prepare for the day ahead. Savor the panoramic views as the train journeys into Cusco, a colorful city that was once the capital of the Inca empire.
All too soon the journey comes to an end. Bid farewell to your crew and disembark for your onward travel arrangements.
Meals Included: Breakfast
~ End of Services ~